Order Delivery Time
By Derin Can Azizof

WOW Classic Gold EU Gehennas - Horde 1000Gold

Add Time: Jul/30/2021

By Aslan

WOW Classic Gold EU Пламегор (Flamegor) - Horde 300Gold

Add Time: Jun/05/2021

By Maciej Kozlowski

WOW Classic Gold EU Gehennas - Alliance 400Gold

Add Time: Nov/02/2020

By Maciej Kozłowski

WOW Classic Gold EU Gehennas - Alliance 250Gold

Add Time: Oct/19/2020

By 22

WOW Classic Gold US Anathema - Alliance 100Gold

Add Time: Oct/05/2020

By

WOW Classic Gold EU Razorgore - Alliance 500Gold

Add Time: Jun/09/2020

By

WOW Classic Gold EU Razorgore - Alliance 500Gold

Add Time: Jun/03/2020

By

WOW Classic Gold US Rattlegore - Alliance 150Gold

Add Time: Jun/02/2020

By

WOW Classic Gold EU Razorgore - Alliance 500Gold

Add Time: Jun/02/2020

By

WOW Classic Gold EU Razorgore - Alliance 500Gold

Add Time: Jun/02/2020

By Ke'bab

WOW Classic Gold US Rattlegore - Alliance 100Gold

Add Time: May/29/2020

By

WOW Classic Gold EU Razorgore - Alliance 500Gold

Add Time: May/28/2020

By

WOW Classic Gold EU Skullflame - Horde 3000Gold

Add Time: May/28/2020

By derin can azizof

WOW Classic Gold EU Skullflame - Horde 3000Gold

Add Time: May/28/2020

By derin can azizof

WOW Classic Gold EU Skullflame - Horde 3000Gold

Add Time: May/28/2020
Feedback
Dalila Winston

09/09 12:04

just gotta say i love this site alredy customer service is very helpful all i have to say is WOW!!!!!!!

wow, wow, wow just speechless i love it:D

Julie Dąbrowska

09/04 02:45

Most Legit site ever. Fast Delivery. BEST SITE TO GET ANYTHING ALL YOUR GOODS!

Michael Angel'z

09/01 12:06

The customer support was really great!Finally the delivery speed was pretty good!!I

this is the lowest price i could find, i was worried a little about the delivery, but it turned out to be very smooth, will buy more later.

Brilliant website i am definately recommending it to people. Aswell as i will be using it again !
World of Warcraft celebrates its 15th anniversary with this great edition
The launch of World of Warcraft Classic is not only the return of many players to the roots of the MMORPG, but also marks 15 years since the original title was released on PC. As this milestone is not achieved by all games, Blizzard has wanted to celebrate it in style and has published a collector's edition that, WoW fans, will want to have yes or yes at home. We talked about the 15th anniversary edition of World of Warcraft, a box in which, in addition to including 30 days of play, some very limited and high quality elements are also included (to which Blizzard has accustomed us, go.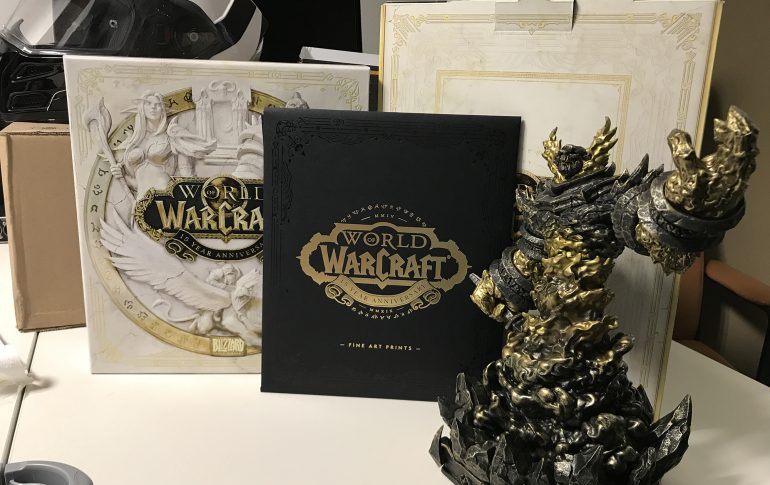 This huge box (which you can see in the images of the gallery, includes a 30 cm tall Ragnaros figure and we already tell you that it weighs a lot. Next to it comes what would be called, properly speaking, the World of Collector's Edition Warcraft Classic and in it we find the following:
A mouse pad with the map of the worlds of WoW
An Onyxia pin
Illustrations of World of Warcraft expansions
30 days of play
Alabaster mounts (for both factions) and an exclusive mount for the Horde and another for the Alliance [not available in WoW Classic, you are notified]
This edition has been put up for sale for 99 euros, but it is sold out in most establishments. Stay tuned in case you edit any more or if there is a store that still has them.
Tired of grinding? Buy WOW Classic Gold via reliable game store
wowtt.com
, 100% hand-grinded
World of Warcraft Classic Gold for Sale
, always in stock with instant delivery, 24/7 live support.