Order Delivery Time
By Derin Can Azizof

WOW Classic Gold EU Gehennas - Horde 1000Gold

Add Time: Jul/30/2021

By Aslan

WOW Classic Gold EU Пламегор (Flamegor) - Horde 300Gold

Add Time: Jun/05/2021

By Maciej Kozlowski

WOW Classic Gold EU Gehennas - Alliance 400Gold

Add Time: Nov/02/2020

By Maciej Kozłowski

WOW Classic Gold EU Gehennas - Alliance 250Gold

Add Time: Oct/19/2020

By 22

WOW Classic Gold US Anathema - Alliance 100Gold

Add Time: Oct/05/2020

By

WOW Classic Gold EU Razorgore - Alliance 500Gold

Add Time: Jun/09/2020

By

WOW Classic Gold EU Razorgore - Alliance 500Gold

Add Time: Jun/03/2020

By

WOW Classic Gold US Rattlegore - Alliance 150Gold

Add Time: Jun/02/2020

By

WOW Classic Gold EU Razorgore - Alliance 500Gold

Add Time: Jun/02/2020

By

WOW Classic Gold EU Razorgore - Alliance 500Gold

Add Time: Jun/02/2020

By Ke'bab

WOW Classic Gold US Rattlegore - Alliance 100Gold

Add Time: May/29/2020

By

WOW Classic Gold EU Razorgore - Alliance 500Gold

Add Time: May/28/2020

By

WOW Classic Gold EU Skullflame - Horde 3000Gold

Add Time: May/28/2020

By derin can azizof

WOW Classic Gold EU Skullflame - Horde 3000Gold

Add Time: May/28/2020

By derin can azizof

WOW Classic Gold EU Skullflame - Horde 3000Gold

Add Time: May/28/2020
Feedback
Dalila Winston

09/09 12:04

just gotta say i love this site alredy customer service is very helpful all i have to say is WOW!!!!!!!

wow, wow, wow just speechless i love it:D

Julie Dąbrowska

09/04 02:45

Most Legit site ever. Fast Delivery. BEST SITE TO GET ANYTHING ALL YOUR GOODS!

Michael Angel'z

09/01 12:06

The customer support was really great!Finally the delivery speed was pretty good!!I

this is the lowest price i could find, i was worried a little about the delivery, but it turned out to be very smooth, will buy more later.

Brilliant website i am definately recommending it to people. Aswell as i will be using it again !
World of Warcraft Classic has been a big success to Activision Blizzard
World of Warcraft Classic has been a big success to Activision Blizzard, with the company revealing today that the retro release has driven subscription numbers to their biggest quarterly increase in history.
Over at Blizzard, World of Warcraft Classic has, since its August release, drove the largest quarterly increase in World of Warcraft subscriptions in the franchise's 15 year lifetime.The segment alone brought in $294 million in revenue, down year-over-year compared to Q3 2018 which saw the launch of a World of Warcraft expansion. King, meanwhile, saw over 247 million monthly active users for the quarter, and continues to leverage its Candy Crush franchise on mobile. Revenue at King came in at $500 million for the quarter, roughly flat year-over-year.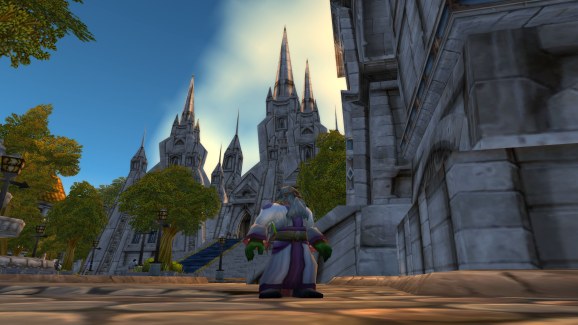 Classic came out on August 26. World of Warcraft players pay for the same subscription to have access to the regular game and Classic, which runs servers based on how WoW was before the launch of any expansions. Lots of players, it seems, wanted that old-school WoW experience. We don't, however, know the exact subscription numbers, as Activision Blizzard has not given that statistic out for years.
"Recent launches have enabled significant growth in the size of our audiences for our Call of Duty and World of Warcraft franchises," said Activision Blizzard CEO Bobby Kotick in a press release. "As we introduce mobile and free-to-play games based on our franchises we believe we can increase audience size, engagement and monetization across our wholly-owned franchises."
Blizzard still has a series of update to roll out for Classic based on original World of Warcraft content. After that, however, Classic's future is uncertain. But considering how popular it's become, Blizzard must be planning something.
To be the core player, you can't leave without WOW Classic Gold. Earning gold in World of Warcraft is no longer the daunting prospect it used to be, but farming for WOW Classic gold can be tedious. Good thing you can always
buy safe World of Warcraft Classic Gold
from us here at
WOWTT.COM
.