Order Delivery Time
By Derin Can Azizof

WOW Classic Gold EU Gehennas - Horde 1000Gold

Add Time: Jul/30/2021

By Aslan

WOW Classic Gold EU Пламегор (Flamegor) - Horde 300Gold

Add Time: Jun/05/2021

By Maciej Kozlowski

WOW Classic Gold EU Gehennas - Alliance 400Gold

Add Time: Nov/02/2020

By Maciej Kozłowski

WOW Classic Gold EU Gehennas - Alliance 250Gold

Add Time: Oct/19/2020

By 22

WOW Classic Gold US Anathema - Alliance 100Gold

Add Time: Oct/05/2020

By

WOW Classic Gold EU Razorgore - Alliance 500Gold

Add Time: Jun/09/2020

By

WOW Classic Gold EU Razorgore - Alliance 500Gold

Add Time: Jun/03/2020

By

WOW Classic Gold US Rattlegore - Alliance 150Gold

Add Time: Jun/02/2020

By

WOW Classic Gold EU Razorgore - Alliance 500Gold

Add Time: Jun/02/2020

By

WOW Classic Gold EU Razorgore - Alliance 500Gold

Add Time: Jun/02/2020

By Ke'bab

WOW Classic Gold US Rattlegore - Alliance 100Gold

Add Time: May/29/2020

By

WOW Classic Gold EU Razorgore - Alliance 500Gold

Add Time: May/28/2020

By

WOW Classic Gold EU Skullflame - Horde 3000Gold

Add Time: May/28/2020

By derin can azizof

WOW Classic Gold EU Skullflame - Horde 3000Gold

Add Time: May/28/2020

By derin can azizof

WOW Classic Gold EU Skullflame - Horde 3000Gold

Add Time: May/28/2020
Feedback
Dalila Winston

09/09 12:04

just gotta say i love this site alredy customer service is very helpful all i have to say is WOW!!!!!!!

wow, wow, wow just speechless i love it:D

Julie Dąbrowska

09/04 02:45

Most Legit site ever. Fast Delivery. BEST SITE TO GET ANYTHING ALL YOUR GOODS!

Michael Angel'z

09/01 12:06

The customer support was really great!Finally the delivery speed was pretty good!!I

this is the lowest price i could find, i was worried a little about the delivery, but it turned out to be very smooth, will buy more later.

Brilliant website i am definately recommending it to people. Aswell as i will be using it again !
WoW Classic: All information about the start of Phase 2
Players can now return to Azeroth like it was 2006: World of Warcraft Classic servers are now live. Developer Blizzard Entertainment turned back the clock on its hugely popular massively multiplayer RPG, and fans are loving it. They love it so much, some are even waiting hours in a queue to play the game.
After the previously available bosses Ragnaros and Onyxia were defeated very quickly by the players, come with Phase 2 of Classic now two new opponents in the game. Both Lord Kazzak and Azuregos are in contrast to the other bosses in the open world and can also surprise unsuspecting players. As the dragon makes the Azshara region unsafe, Lord Kazzak awaits his challengers in the Blasted Lands.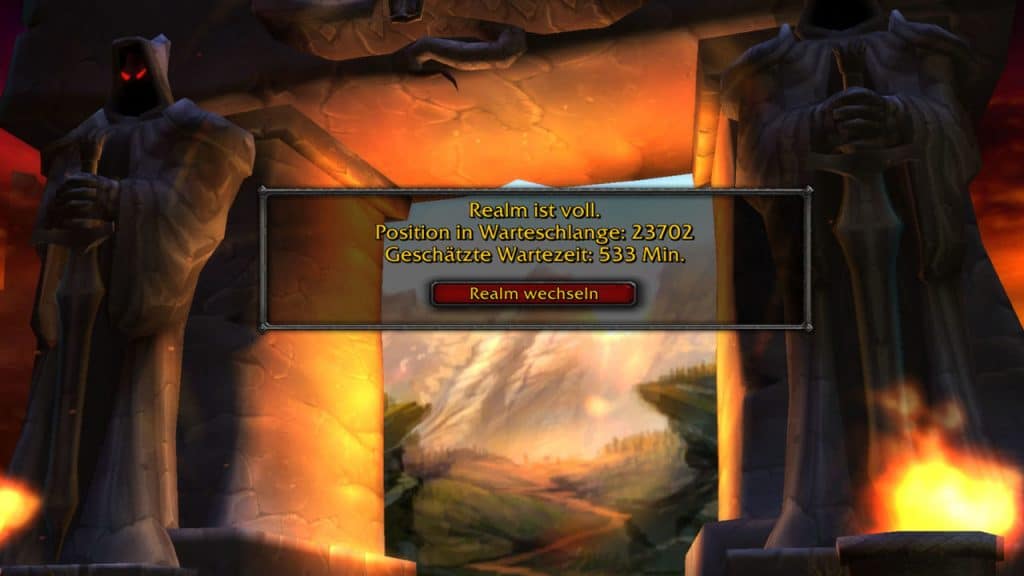 As mentioned previously, the second part of the phase will include two world bosses: Kazzak and Azuregos. These two monsters are high-level and have a lot of hit points meaing it'll require a coordinated raid to take them out. However, since they will be out in the open, the enemy faction can come in to steal the kill or take out players battling the boss.
The third major change in Phase 2 will be the shutdown of layering on all servers. Months after the release, some of the servers are still so crowded that the gameplay experience can not be smoothed out otherwise. The transition to a version of the game world is seen critically by many players. Blizzard has already warned that new queues will be expected on some servers.
Free character transfers are now available in the US, according to a post by Blizzard on the WoW Classic forums on Sept. 5. Players on high-populated servers, or realms, can now move their characters to one with fewer people in hopes of having more balanced populations across all of the realms available.
Tired of grinding? Buy WOW Classic Gold via reliable game store
wowtt.com
, 100% hand-grinded
World of Warcraft Classic Gold for Sale
, always in stock with instant delivery, 24/7 live support.