Order Delivery Time
By Derin Can Azizof

WOW Classic Gold EU Gehennas - Horde 1000Gold

Add Time: Jul/30/2021

By Aslan

WOW Classic Gold EU Пламегор (Flamegor) - Horde 300Gold

Add Time: Jun/05/2021

By Maciej Kozlowski

WOW Classic Gold EU Gehennas - Alliance 400Gold

Add Time: Nov/02/2020

By Maciej Kozłowski

WOW Classic Gold EU Gehennas - Alliance 250Gold

Add Time: Oct/19/2020

By 22

WOW Classic Gold US Anathema - Alliance 100Gold

Add Time: Oct/05/2020

By

WOW Classic Gold EU Razorgore - Alliance 500Gold

Add Time: Jun/09/2020

By

WOW Classic Gold EU Razorgore - Alliance 500Gold

Add Time: Jun/03/2020

By

WOW Classic Gold US Rattlegore - Alliance 150Gold

Add Time: Jun/02/2020

By

WOW Classic Gold EU Razorgore - Alliance 500Gold

Add Time: Jun/02/2020

By

WOW Classic Gold EU Razorgore - Alliance 500Gold

Add Time: Jun/02/2020

By Ke'bab

WOW Classic Gold US Rattlegore - Alliance 100Gold

Add Time: May/29/2020

By

WOW Classic Gold EU Razorgore - Alliance 500Gold

Add Time: May/28/2020

By

WOW Classic Gold EU Skullflame - Horde 3000Gold

Add Time: May/28/2020

By derin can azizof

WOW Classic Gold EU Skullflame - Horde 3000Gold

Add Time: May/28/2020

By derin can azizof

WOW Classic Gold EU Skullflame - Horde 3000Gold

Add Time: May/28/2020
Feedback
Dalila Winston

09/09 12:04

just gotta say i love this site alredy customer service is very helpful all i have to say is WOW!!!!!!!

wow, wow, wow just speechless i love it:D

Julie Dąbrowska

09/04 02:45

Most Legit site ever. Fast Delivery. BEST SITE TO GET ANYTHING ALL YOUR GOODS!

Michael Angel'z

09/01 12:06

The customer support was really great!Finally the delivery speed was pretty good!!I

this is the lowest price i could find, i was worried a little about the delivery, but it turned out to be very smooth, will buy more later.

Brilliant website i am definately recommending it to people. Aswell as i will be using it again !
WoW Classic: Players demand ban on spy addon
On Reddit and in the official WoW forum, since the start of the second phase of WoW, classic threads have sprung up like mushrooms, hotly debating the Spy Classic addon. For many players, the modification provides such a big advantage in detecting enemy characters that they think it should be prohibited. Other PvP enthusiasts see it differently.
When it comes to interface addons in WoW Classic, then the playership is split into several camps. While some addons like an imported "LFG Tool" already sparked heated discussions, now another addon caused a lot of discussion. Especially in PvP, the addon is so powerful that many players want it banned. There is talk of "Spy", which gives players a tactical advantage.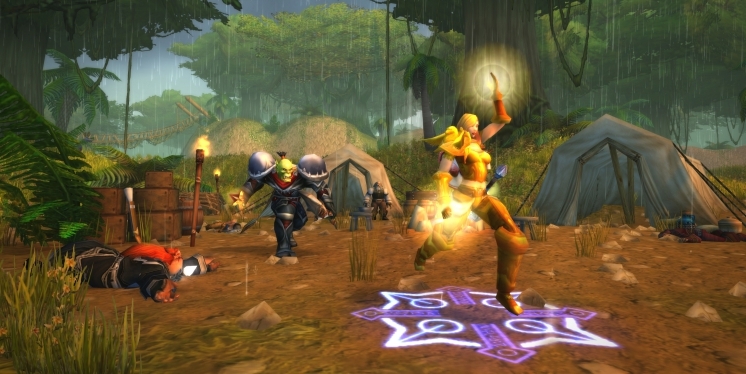 The modification scans your combat log for enemy character actions and tells you when enemies are around you. In addition, you learn details such as the class, the people or the level of the character. The data ends up in a list and can also be forwarded to group and raid members who also use Spy Classic.
Can Blizzard do something about it? This is difficult. The Spy addon does not use "super-secret" information, just reads the chat log of the game. So basically it only reads what players - in theory - could also see manually. If Blizzard specifically wanted to disable the functionality of this addon, then addons should probably no longer access the combat log. That, in turn, would deprive hundreds of other addons of their functionality, such as "damage meters" or aggro addons.
Since the start of the system of honor a lot of players in PvP battles in the open world plunge, the addon enjoys some popularity (718,319 downloads). At the same time, however, new threads are springing up every day on Reddit or in the official WoW forum, where heated discussions are being held on the Addon Spy Classic .
The fact is, however, that the "spy" addon was not so common at the time and rather used by the fewest. Nowadays, the mentality of many players and also the dissemination of knowledge on the Internet is a completely different one.
Are you tired of farming gold by killing monsters? To enhance your adventure and make you fully enjoy the game, you are recommended to
Buy Cheap World of Warcraft Classic Gold
via reliable game store
wowtt.com
. Buy now, and enjoy the biggest discount ever!